Golac trade - nature lovers and proud users of the Lika Quality system
Golac trade - nature lovers and proud users of the Lika Quality system
Published:
26. 03. 2020 - 4:27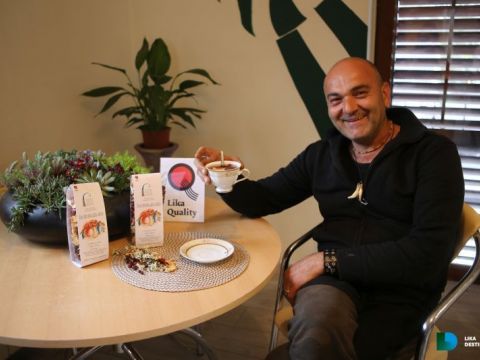 Ivan and Senka Golac regularly visit the Lika grounds, especially the forests of Velebit from the foothills to the peaks. Years of experience in picking and harvesting fruits have encouraged them to produce authentic, unusual and healthy products.
Golac trade products are labeled with Lika Quality label. Which mushrooms are most commonly harvested and what are their plans for the future, we asked Mr. Golac. What he revealed to us read below:
Mr. Golac, you are a true nature lover. Where did so much love for nature come from?
The most beautiful loves are unconscious, spontaneous, sincere. You keep that love for yourself and you come back to it all your life. So is the love of nature. When I was a kid, when I went fishing, I felt the cold mornings and the first rays of sunshine with them, endless peace, warm summer evenings, the murmur of water, the croaking of frogs, the smell of medicinal herbs ... And later you start studying, you realize that nature is offered to you, that it gives its best for your love.
You often point out, and this is also the logo of your trade, that health requires only sun, water and earth. How do you explain it?
Quite simply, everything in nature is created by these three elements. Everything in nature has its meaning, nothing is accidental.
The area of ​​the Lika destination is known for its rich forests and abundance of wild plants. Together with your wife, you visit the Lika grounds looking for mushrooms. What kind of mushrooms do you pick most and in what forests do you find them?
Each forest has its own mushrooms. Every forest has a "master of the forest" whom we respect. Mature mushrooms are always harvested, not young or old. Most often they are mussels, spruces, foxes, various types of trumpeters. In Velebit, our most beautiful mountain, where beech trees grow, we pick mussels. In oak forests, the fox is harvested and, in the pines, and spruce ash.
What after picking? How do you get to the final product in the packaging?
After picking, the mushrooms are cleaned, cut and cut into nets. They are then dried in the desiccants provided. After drying, the dried mushrooms are stored in cellophane bags and freeze for 48 hours at -30 degrees. Then they are ready for packaging in the final packaging.
We know that creating a successful product requires a lot more than just loving the business. Can you tell us where the idea of ​​starting a business came from and how you handle the risks in the business?
Nature is unpredictable - when nature gives us the good year we reap more fruits. Then business is better, and when it gives poorly, then we do less business.
In addition to work with herbs and forest fruits, you also make original wood utensils. Can you say that you live by doing what you love?
Of course, we love what we do. When I pick mushrooms, herbs, or wild fruits in nature, and I come across a piece of good discarded wood, I make an original pot of it. Isn't that nice?!
Your products are the part of the Lika Quality system. What is your experience with the system?
The experiences are great!!! I am proud of the Lika Quality system. It should be the pride of Lika, because all the good products can be Lika Quality product.
In addition to being involved in the Lika Quality system, you are also a partner in the project IQM Destination Lika. Did the project meet your expectations?
So far, it has proven to be an excellent foundation for the future development of Lika. Of course, there is still a lot of work to do to improve the project.
How do you comment on the presence of local foods in restaurants in Lika?
When it comes to my products, the representation is still low for now. It depends about cooperation of the caterers and manufacturers. They should be encouraged to cooperate through an agreement on each other's needs. Caterers should prepare manufacturers to prepare the quantities of their products. There must be a guarantee for each other that the products will be on offer but also that the caterer will not be left without them. This is not accomplished overnight so there should be trial periods, lots of talk about preparation and placement.
Do you have plans to expand your production or product range?
If necessary, I will expand production.
You can find more about the Lika Quality system at: https://www.lika-destination.hr/regional-quality-system/
News - All
Golac trade - nature lovers and proud users of the Lika Quality system