Lika Quality presented again as an example of good practice
Lika Quality presented again as an example of good practice
Published:
13. 12. 2022 - 5:58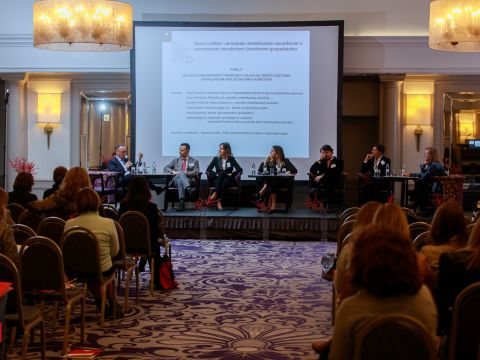 On the occasion of the 30th anniversary of the State Institute for Intellectual Property of the Republic of Croatia, an expert meeting entitled "Challenges of protection and management of intellectual property in the modern innovative and creative economy" was organized at the Sheraton Hotel, during which four panel discussions were held with the participation of prominent experts. , which highlighted the most significant examples of marking and protecting intellectual property
At one of them entitled "Strengthening the competitiveness of products and services on the market by protecting and managing intellectual property", the president of the Lika Destination Cluster, Petra Kovačević, took part, who presented the Lika Quality guarantee mark protected by the DZZIV, i.e. the certification system of local products from the area destination Lika under the same name. The panelists were:
Mr. Neven Vranković, Atlantic Grupa d.d., Vice President of Atlantic Grupa for corporate activities
Mrs. Diana Petričević, Podravka d.d., - tbc
Mr. Branimir Puškarić, Rimac Group d.o.o., manager of intellectual property
Mrs. Ivona Skerlev, Forten Group d.d., director of special projects
Mrs. Petra Kovačević, Cluster Lika destination, president of the Cluster
Mr. Andrej Matijević, Matijević Law Firm
This is a confirmation of the increasing recognition and recognition of the Lika Quality system at the national level as well.
Photo: Goran KovaZg
News - All
Lika Quality presented again as an example of good practice