Announcement for the 6th Public Call for Expressions of Interest for using the Lika Quality mark
Announcement for the 6th Public Call for Expressions of Interest for using the Lika Quality mark
Published:
29. 03. 2023 - 8:49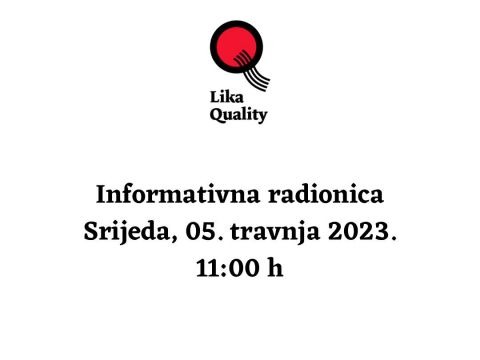 For more than 5 years, through the unique Lika regional quality system of food, drinks and souvenirs - Lika Quality, the destination of Lika has been branded as a top gastronomic destination. The Lika Quality system brings together 68 producers and 179 products produced precisely in the area of the Lika destination.
In order for a product to bear the Lika Quality mark, it must be of local origin, i.e. from the destination area of Lika (which includes the areas: Brinje, Donji Lapac, Gospić, Gračac, Karlobag, Lovinac, Otočac, Perušić, Plaski, Plitvička Jezera, Rakovica, Saborsko, Senj, Udbina and Vrhovine). In addition, producers must be registered in accordance with all legal regulations and the products must be legally and healthily (applicable for food and drink) correct.
The uniqueness and quality of the Lika Quality system was also recognized at the world level when the international foundation Green Destination included the destination of Lika in the list of TOP 100 green sustainable destinations in the world in 2020. In addition, the Lika Quality system was chosen among the 15 best examples of sustainable development in the world!
In order to include new products and manufacturers and expand the offer, a new Public Call will be published on April 11, 2023 and open until May 15, 2023. In order to prepare potential applicants about the conditions and criteria for certification, the Lika Destination Cluster is organizing an informative online workshop that will will be held on Wednesday, April 5 starting at 11 a.m. via the Zoom platform at the link here.
It is possible to register in advance using the form available at the link here, after which you will receive the above invitation to the Zoom workshop and a maintenance reminder to your e-mail address.
For any additional information, you can contact the Lika Destination Cluster at info@lika-destination.hr or at 053647042.
News - All
Announcement for the 6th Public Call for Expressions of Interest for using the Lika Quality mark