The 6th public call for expressions of interest in the use of the Lika Quality mark has been opened
The 6th public call for expressions of interest in the use of the Lika Quality mark has been opened
Published:
11. 04. 2023 - 9:30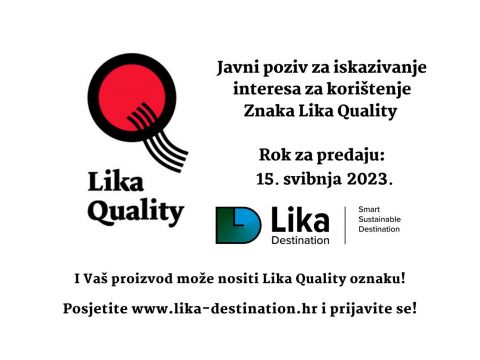 For 6 years, the unique Lika regional quality system of food, drinks and souvenirs - Lika Quality - has been branding the destination of Lika as a gastronomic destination. The Lika Quality system brings together 68 producers and 179 products produced precisely in the area of the Lika destination.
In order for a product to bear the Lika Quality mark, it must be of local origin, i.e. from the destination area of Lika (which includes the areas: Brinje, Donji Lapac, Gospić, Gračac, Karlobag, Lovinac, Otočac, Perušić, Plaski, Plitvička Jezera, Rakovica, Saborsko, Senj, Udbina and Vrhovine). In addition, producers must be registered in accordance with all legal regulations and the products must be legal and health (food and drink) correct.
In order to include new products and producers and to expand the tourist offer, on April 11, 2023, the 6th Public Call for expressions of interest in using the Lika Quality Mark was announced. The public call is open until May 15, 2023. Application forms can be requested at info@lika-destination.hr. Also, for all other information, you can contact the e-mail info@lika-destination.hr, telephone number 053 647 042 or the office of the Lika Destination Cluster at the address Budačka 12 in the Cultural Information Center in Gospić on weekdays from 07:00 to 15:00: 00 hours.
The Lika Quality system is guided by the principles of sustainable development, and was created as part of the INTEGRA LIKA 2020 project. In addition to the natural beauty and many protected natural areas that the Lika destination has, this system aims to enable tourists to enjoy food and other traditional Lika products equally. Therefore, the Lika Destination Cluster, in cooperation with the Agricultural Cooperative Lika Coop, is continuously working on the marketing of Lika Quality products both on the markets within the destination and beyond. The uniqueness and quality of the Lika Quality system was recognized at the world level when the international foundation Green Destination 2020 included the system in the list of TOP 100 green sustainable destinations in the world. In addition, the Lika Quality system was chosen among the 15 best examples of sustainable development in the world!
All products that are in the Lika Quality system are listed by category and can be searched here.
Let your products be part of this recognizable unique personal quality system!
News - All
The 6th public call for expressions of interest in the use of the Lika Quality mark has been opened