Institutional support of Lika-Senj County
Institutional support of Lika-Senj County
Published:
16. 05. 2023 - 5:20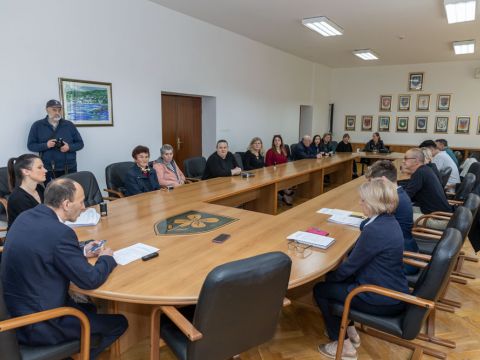 In order to provide even better institutional support to Associations in the area of Lika-Senj County with funds from the budget of Lika-Senj County for the year 2023, on the basis of a public invitation, a ceremonial signing of the Agreement was held today in the meeting hall of Lika-Senj County. Before signing the Agreement, the representatives of the Association were greeted by Prefect Ernest Petry.
-Today we will sign contracts with 12 associations for which we have allocated 33,100 euros. These are the Society "Our Children" from the town of Gospić, the Association of the Blind of Lika-Senj County, the Association of Pavenka Women from Brinj, the Association for Media Activities, Sports and Legal Aid "Lički Put" from Gospić, the Lika-Gospić Art Association, the Association of Parents of Children with Disabilities in the development of "Pčelica", Gospić, Cluster Lika Destination, Association of Croatian volunteers of the Homeland War of Lika-Senj County, Association "Good times from Svetog Rok", KUD "Lipa" Sinac, Help at home for the elderly - Donji Lapac and Equestrian Club "Ana" from Senj.
This is just one of the public calls that the Lika-Senj County publishes in the field of health, social care, culture and sports. This public call was aimed at working with children and youth, associations of persons with disabilities and associations resulting from the Homeland War, said Prefect Petry, while his colleagues Valentina Zdunić and Danijela Hećimović clarified the details of the contract.
L.O.
Taken from Lika Online.
News - All
Institutional support of Lika-Senj County